Savannah, GA is Invited to View the 2021 Genesis G80
When you're seeking out standout luxury, Genesis of Savannah offers you a multitude of options. For a premium mid-size sedan, the 2021 Genesis G80 is here for those in nearby areas such as Richmond Hill, Pooler, Rincon and Hinesville to view, and see why in a short amount of time, this luxury car has attained a place at the top among all other vehicles. We encourage you to learn more about it, and see how the 2021 Genesis G80 is the right fit for those looking to find their next luxury vehicle in Savannah.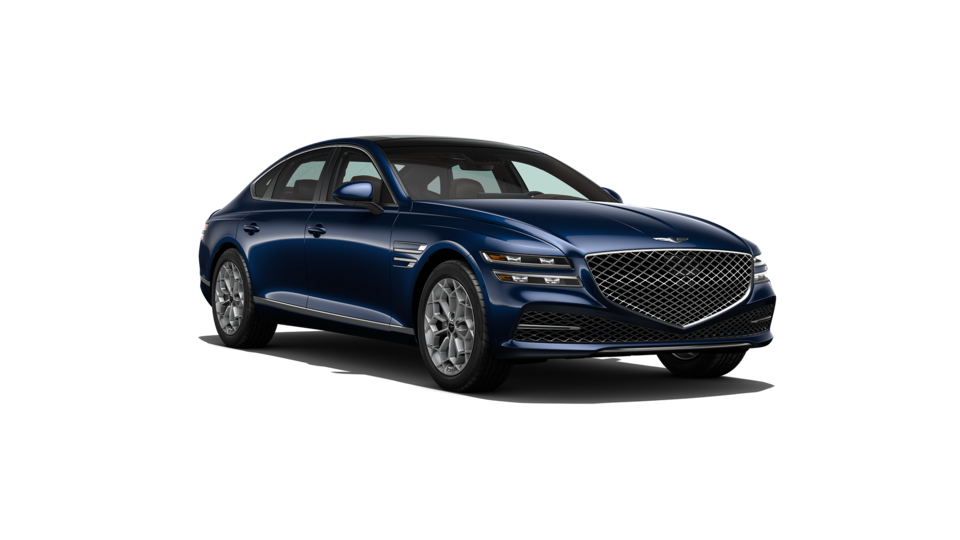 Exterior Style That Draws Attention
With the 2021 Genesis G80, you're getting a visually appealing ride. It adds some new exterior features for the current model year, which includes updated quad LED headlamps as well as an updated grille to go along with its sweeping fascia that gives the G80 its signature looks. You'll be able to ride in confidence knowing that the G80 is a head-turner and offers elegance and a high standard of luxury car driving.
2021 Genesis G80 Trim Levels
You have four different Genesis G80 options in the 2021 lineup, which are categorized by their engine type and the drivetrain giving you the following:
Genesis G80 2.5T RWD: this option offers a 2.5-liter engine as well as memory and heated front seat options, plus keyless entry and USB ports onboard with rear-wheel drive
Genesis G80 2.5T AWD: adding all-wheel drive, you get the same features as its RWD option, with a different power option for your wheels
Genesis G80 3.5T RWD: you can add performance with a 3.5-liter turbo V6 and rear-wheel drive, along with steering assist cruise control, a sunroof and power sunshade
Genesis G80 3.5T AWD: with the same engine and features as the RWD option, this G80 offers an all-wheel drive platform
Climb Inside a Premium Interior
Onboard the Genesis G80, you're going to find it has plenty of space and is among the most spacious in its class in terms of passenger room. There's standout upholstery and seating surfaces which includes Nappa leather and there's also matte wood trim finishes onboard, all giving you the premium feel that sets the bar high.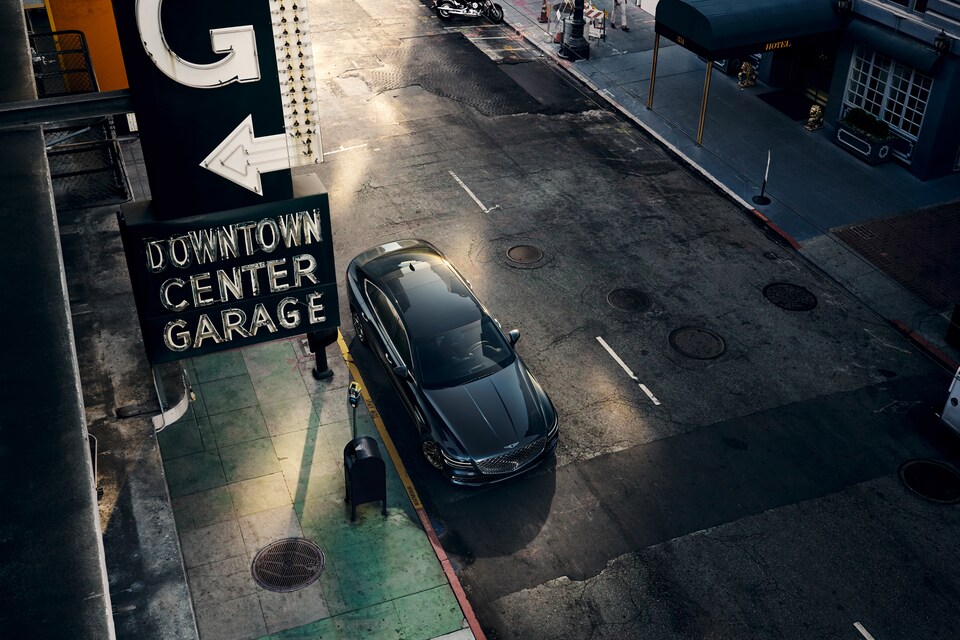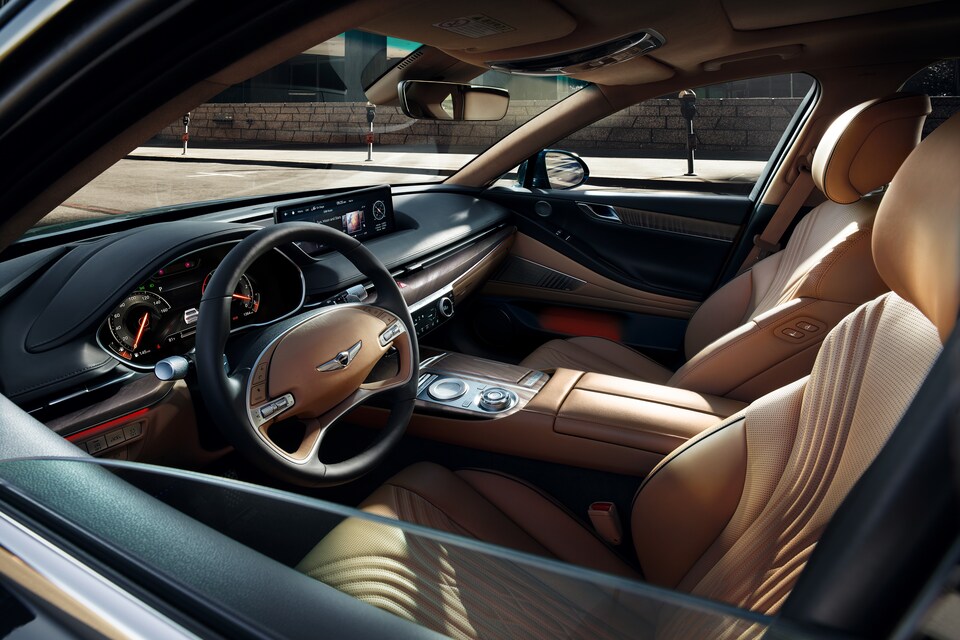 Technology
With a large touch display that sits above the dashboard, you have an entertainment hub which offers you connection to your smartphone for hands-free messaging and calling as well as navigation and music streaming with the use of Android Auto™ and Apple CarPlay® as well. There's also the innovative Remote Smart Parking Assist, which allows you to control your vehicle by backing it in and out of spaces using your finger to guide it You can connect in the 2021 Genesis G80 in multiple ways. This includes a large touch display that's situated above the dashboard. It offers you Apple CarPlay® and Android Auto™ integration, as well as voice command and hands-free technology for music streaming, calls, and messaging. There's also a number of convenience features too. You'll find there's the likes of Remote Smart Parking Assist, which gives you control of your vehicle pulling it in and out of spaces using your smart key.
Safety
The 2021 Genesis G80 has many different safety features designed to alert you and help you stay aware out on the road. This includes Highway Driving Assist II to provide centered drives and safe distances between other vehicles, as well as an adaptive cruise control system with machine learning, which learns your habits and can set a custom drive for you based on it. There's also forward attention warning with IR camera to monitor if you're drowsy when driving and advise you rest when that's the case to keep you and everyone else safe.
Powerful Performance
The 2021 Genesis G80 features two new standard engine options. The 2.5-liter inline-four turbocharged option provides 300 horsepower, while a 3.5-liter turbocharged V6 offers 375 horsepower. Each give you quality fuel economy numbers as well so you can commute across Savannah efficiently.
Discover the 2021 Genesis G80 in Savannah
At Genesis of Savannah, we invite you in to learn more about the 2021 G80 and discover all its appealing features and details. Contact us today to set up a time to meet and we'd be happy to get started with you soon!
Want to Test Drive the G80? Let Us Know!
Hours
Monday

9:00am - 6:00pm

Tuesday

9:00am - 6:00pm

Wednesday

9:00am - 6:00pm

Thursday

9:00am - 6:00pm

Friday

9:00am - 6:00pm

Saturday

9:00am - 6:00pm

Sunday

Closed
See All Department Hours
Dealership Hours
Monday

9:00am - 6:00pm

Tuesday

9:00am - 6:00pm

Wednesday

9:00am - 6:00pm

Thursday

9:00am - 6:00pm

Friday

9:00am - 6:00pm

Saturday

9:00am - 6:00pm

Sunday

Closed
Parts Dept. Hours
Monday

7:30am - 6:00pm

Tuesday

7:30am - 6:00pm

Wednesday

7:30am - 6:00pm

Thursday

7:30am - 6:00pm

Friday

7:30am - 6:00pm

Saturday

8:00am - 3:00pm

Sunday

Closed
Service Dept. Hours
Monday

7:30am - 6:00pm

Tuesday

7:30am - 6:00pm

Wednesday

7:30am - 6:00pm

Thursday

7:30am - 6:00pm

Friday

7:30am - 6:00pm

Saturday

8:00am - 3:00pm

Sunday

Closed