Style, Elegance, Power: the Genesis G70
Experience heart-pounding power in a luxurious package. With the Genesis G70, Savannah drivers will get an undeniably thrilling experience. Discover an impeccable design, a powerful engine, and incredible tech wrapped into one comfortable, convenient package. When you climb inside the Genesis G70, you will wonder how you ever lived without it.
An Eye-Catching Exterior
Let your presence be known. When you pull up to your favorite downtown Richmond Hill destination in the Genesis G70, be prepared to see some shocked faces.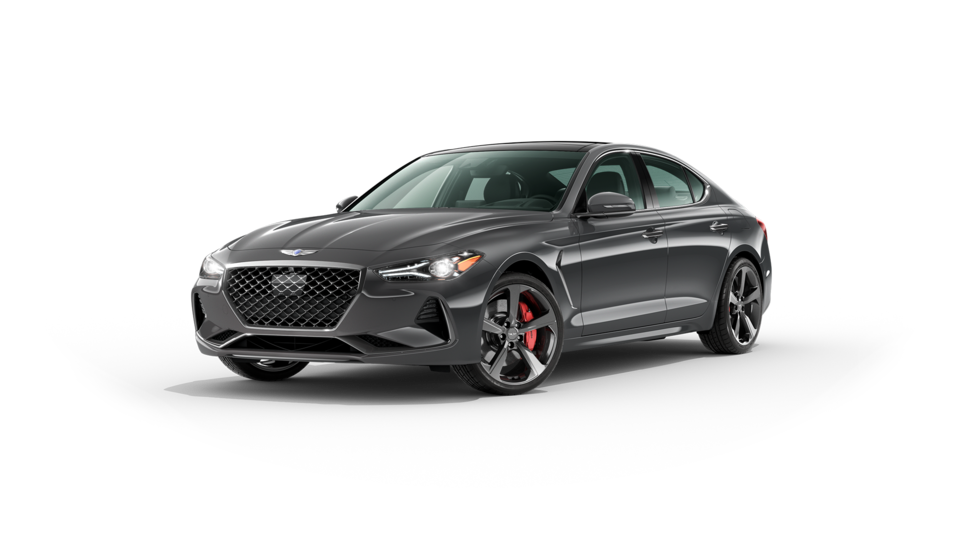 The Genesis G70 is an unmistakable piece of luxury. When onlookers catch a glimpse at your G70's audacious front-end, they'll know you mean business. They will first marvel at the unique front grille at the center of the G70's front-end, which has a crosshatched, hexagonal design. To further assert the Genesis G70's dominance, the front grille is flanked by two expertly-designed headlights, which shine bright enough to illuminate the path ahead.
Pooler customers who opt for the G70 Sport trim can further enhance the G70's luxurious presence by installing the available 19-inch sport alloy wheels. While these four unique wheels add to the G70's excellent performance, they will also add to the style that you exude as you glide down the streets of Savannah.
Eye-Opening Performance
When it comes to performance, the Genesis G70 refuses to play nice. Striking the perfect balance between raw power and refined speed, the Genesis G70 is an experience to drive.
For the G70, even the standard model sets a high bar. The standard G70 comes with a 2.0-liter turbocharged GDI four-cylinder engine, and it puts other luxury vehicles to shame. Able to output up to 252 horsepower, this engine will make you feel powerful. If you're someone who wants to feel an even bigger rush when you drive, consider getting the available 3.3-liter twin-turbo GDI V6 engine, which can output up to 365 horsepower. With Launch Control, this available engine will allow you to get a fast start off the line.
When you put pedal to the metal in your new Genesis G70 available near Rincon, its foundation will not leave you hanging. With the available all-wheel-drive system with stability control and available Dynamic Torque Vectoring Control, the Genesis G70 will not disappoint. With this system, the power can be transferred to the wheels when it is needed most, allowing for excellent performance in low traction conditions.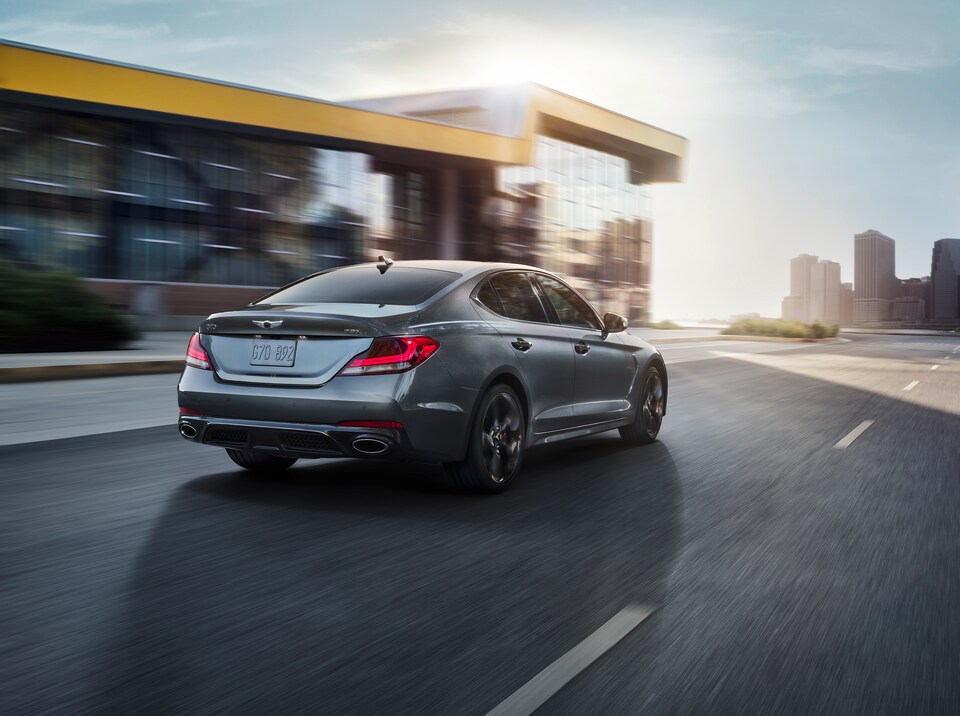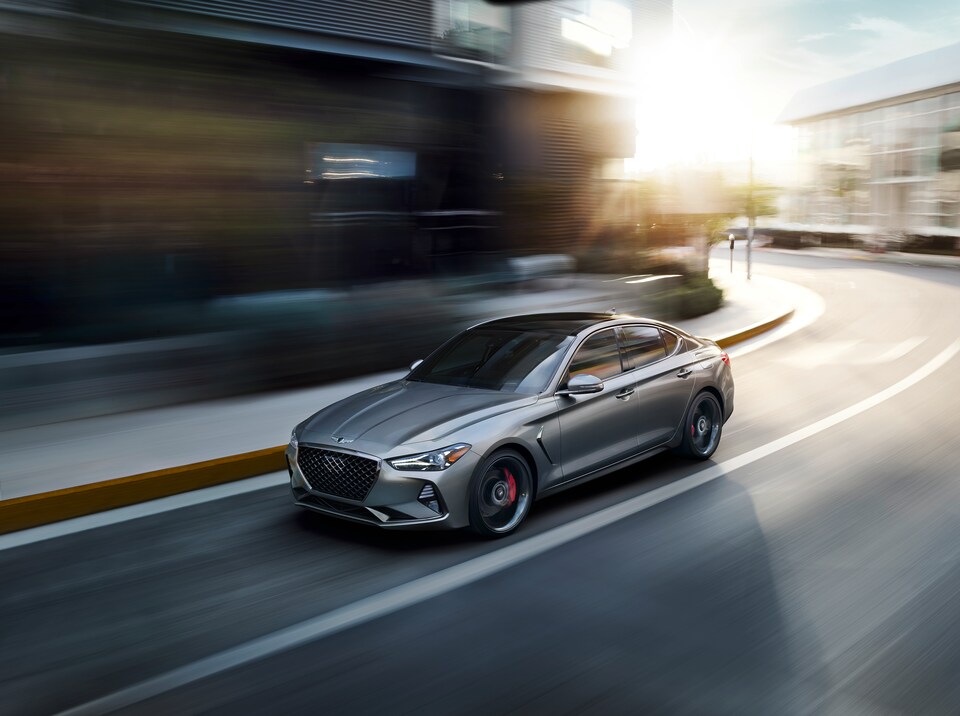 Safety Features
When you're driving around Hinesville, you're going to need a system that will help keep you as safe as possible. With the Genesis G70, your vehicle will step in to help you out when you need it most. With the following safety features, your Genesis G70 will do its best to keep you safe and sound:
Forward Collision-Avoidance Assist: Your Genesis G70 will keep a watchful eye, alerting you if you're approaching a stopped vehicle or pedestrian too quickly. This can help lessen the impact of a frontal collision or completely avoid one altogether.
Lane Keeping Assist: Using a windshield-mounted camera to keep track of lane markings on the street, your Genesis G70 will apply corrective steering should you be in danger of unintentionally leaving your lane.
Smart Cruise Control with Stop & Go: When you're driving your Genesis G70 around Savannah, you need to make sure you are keeping a safe distance from other vehicles. When you engage cruise control, your G70 will monitor the vehicles in front to help you stay in the flow of traffic.
With these enhanced safety features, you can drive around Hinesville or across state lines knowing that your Genesis G70 will have your back.
Schedule a Test Drive
There's no other car like the Genesis G70. If you're ready to take one out for a spin, give us a call and we'll set up a test drive. We know that you'll be impressed with everything the Genesis G70 has to offer.
Questions About the G70? Let Us Know!
Hours
Monday

9:00am - 6:00pm

Tuesday

9:00am - 6:00pm

Wednesday

9:00am - 6:00pm

Thursday

9:00am - 6:00pm

Friday

9:00am - 6:00pm

Saturday

9:00am - 6:00pm

Sunday

Closed
See All Department Hours
Dealership Hours
Monday

9:00am - 6:00pm

Tuesday

9:00am - 6:00pm

Wednesday

9:00am - 6:00pm

Thursday

9:00am - 6:00pm

Friday

9:00am - 6:00pm

Saturday

9:00am - 6:00pm

Sunday

Closed
Parts Dept. Hours
Monday

7:30am - 6:00pm

Tuesday

7:30am - 6:00pm

Wednesday

7:30am - 6:00pm

Thursday

7:30am - 6:00pm

Friday

7:30am - 6:00pm

Saturday

8:00am - 3:00pm

Sunday

Closed
Service Dept. Hours
Monday

7:30am - 6:00pm

Tuesday

7:30am - 6:00pm

Wednesday

7:30am - 6:00pm

Thursday

7:30am - 6:00pm

Friday

7:30am - 6:00pm

Saturday

8:00am - 3:00pm

Sunday

Closed