Searching for the perfect luxury vehicle for exploring Savannah, Pooler, or Hinesville in style? In this Genesis G80 vs. INFINITI Q50 car comparison, we want to help you get a better sense of two of your options.
The Genesis midsize car and INFINITI small car are two standout vehicles in their segments. Which is best for you? Read on to see these two models' most compelling features set side-by-side, so you can weigh their advantages. If you have any questions, just reach out to us at Genesis of Savannah!
G80 vs Q50: Interior Space
One quality many drivers look for in their cars is ample people space. In many respects, the G80 and Q50 are well matched in this area. Let's take a closer look at headroom and legroom specs:
Genesis G80

INFINITI Q50

Front Seat Headroom (in.)

41.1

39.5

Front Seat Legroom (in.)

45.7

44.5

Backseat Headroom (in.)

38.2

36.8

Backseat Legroom (in.)

35.0

35.0
These two cars are incredibly similar in terms of legroom, with identical measurements in the backseats and extremely roomy front footwells. However, when you consider headroom, it becomes clear that the G80 has an advantage when it comes to seating taller passengers.
With just 36.8 inches of headroom in the rear, the Q50 may struggle to seat adults in the backseat. In the G80, that's a nonissue, where a comparatively roomy 38.2 inches will better accommodate the average-sized adult.
Engine Performance Specs
Luxury cars are known for their potent powertrains, and the Genesis G80 and INFINITI Q50 keep power-packed engines under their hoods. The G80 tops out with a mighty V8 that produces 420 horsepower and the Q50 isn't too far behind, with a twin-turbocharged V6 that delivers an even 400 horsepower.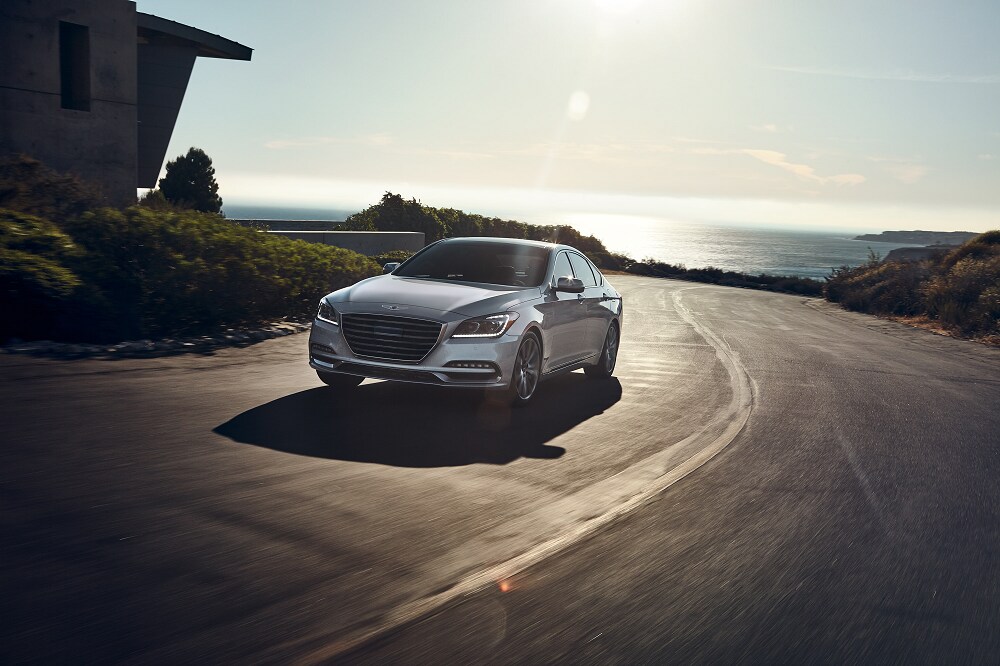 Check in with the base trims, though, and you'll see that the G80 advantage grows. Its standard V6 offers a lively 311 horsepower, while the Q50's turbocharged 4-cylinder falls short, with just 208 horsepower on tap. You'll enjoy driving with more authority in the base G80.
Both cars come standard with a sport rear-wheel drive (RWD) system and make all-wheel drive (AWD) an available option. When you're looking for a little extra grip on wet roads, that AWD can be handy to have around.
Advanced Safety Features
Accident prevention is paramount for most area shoppers, and if safety is your top concern, you'll be glad to hear that the G80 and Q50 offer plenty of driver-assistive technologies to help you sense what's going on around you. Both include:
Adaptive Cruise Control to help you keep a preset distance from the car ahead by automatically altering speed.
Blind Spot Monitoring to alert you when you signal a lane change and there's a vehicle detected in your blind spot.
Lane Keeping Assist to warn you and help correct your steering when you start drifting from your lane.
They're all useful features that can help you avoid an accident. While they're all standard in the G80, you'll only find them as available upgrades in the Q50.
Genesis G80 vs INFINITI Q50: The Verdict
Now that you've read our car comparison, what's your verdict in the Genesis G80 vs. INFINITI Q50 faceoff? For sure, these are two excellent vehicles that have plenty to offer Savannah, Pooler, and Hinesville shoppers.
If you want a luxury car with more headroom, more powerful engines, and plentiful standard safety features, the Genesis G80 may just be the ride for you. Schedule a test drive at Genesis of Savannah and decide for yourself!